ACR 2015 | Daily Highlights
Complement Activation Predicts Adverse Pregnancy Outcome in Patients with SLE and/or aPL Antibodies
Abstract:
1996
Presenter:
Jane E. Salmon
Co-Authors:
Mimi Kim, Marta Guerra, Elianna Kaplowitz1, Carl Laskin, Michelle Petri, Ware D. Branch, Michael Lockshin, Lisa R. Sammaritano, Joan T. Merrill, Mary D. Stephenson, Munther Khamashta, Alan M. Peaceman, Anne Lynch and Jill P. Buyon
Background/Purpose:
Women with SLE and/or aPL antibodies (SLE/APL) are at increased risk for adverse pregnancy outcomes (APO) yet identification of those destined for complications remains challenging. Murine studies implicate complement activation as an essential and causative factor in fetal loss and growth restriction. Activation of the alternative complement pathway, demonstrated by increased levels of the factor B fragment Bb, occurs in non-autoimmune patients with preeclampsia. Activation of all complement pathways leads to production of terminal complex C5b-9. We hypothesized that Bb and soluble C5b-9 (sC5b-9) would be elevated in the circulation starting early in the pregnancy of patients destined for APOs.
Methods:
The PROMISSE Study (
P
redictors of p
R
egnancy
O
utcome: Bio
M
arkers
I
n antiphospholipid antibody
S
yndrome and
S
ystemic
L
upus
E
rythematosus) enrolled pregnant women with ?4 ACR SLE criteria and/or aPL antibodies and healthy pregnant controls (HC). Subjects were evaluated and blood collected monthly beginning at <12 wks gestation. Exclusion criteria were multi-fetal pregnancy, prednisone >20mg/d, proteinuria >1gm/24hr, and creatinine >1.2 mg/dL. APOs were: fetal death, neonatal death, preterm delivery <36 wks because of preeclampsia or placental insufficiency, and/or growth restriction <5th %ile. Complement split products were measured on serial blood samples in 492 SLE/APL patients and in 201 HC. Levels of Bb and sC5b-9 (by MicroVue™ Bb Plus and SC5b-9 Plus EIA Kits) were compared at each time point using analysis of variance followed by pairwise comparisons with the Bonferroni method. Rates of change in complement activation products through 27 wks of pregnancy were estimated and compared using linear mixed effects models.
Results:
APO occurred in 20.5% of SLE/APL pregnancies. Compared to SLE/APL patients with no APO, Bb and sC5b-9 were significantly higher as early as 12-15 wks in those destined for pregnancy complications and remained significantly elevated through 31 wks. Bb and sC5b-9 were significantly higher, starting as early as 12 wks, in SLE/APL patients regardless of outcome, compared to HCs. In all three groups, there was a decrease in Bb as pregnancy progressed, but the rate of decrease was significantly smaller in patients with APO compared to SLE/APL without APO and HC. Because complement activation often precedes and accompanies SLE flares, it is of note that in patients without flares, increased Bb still predicted poor outcomes.
Conclusion:
In pregnant SLE/APL patients, increased Bb and sC5b-9 is detectable early in pregnancy and is strongly associated with APO. Our findings support the concept that activation of complement, particularly the alternative pathway, contributes to APO. In addition to identifying those destined for APO, they provide a rationale for blockade of complement to prevent APOs in high risk SLE/APL patients.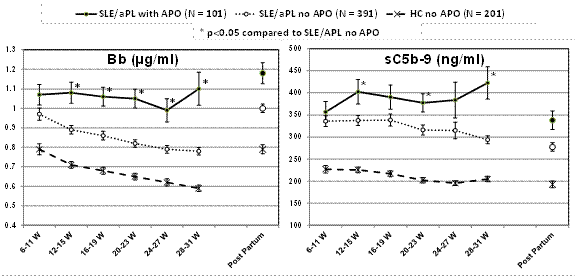 Comment:
Schwangerschaften von Patienten mit SLE zeigen gehäuft Frühgeburten, Präeklampsien, sehr niedriges Geburtsgewicht des Kindes, oder auch Versterben des Feten oder Neugeborenen. Leider gibt es keine verlässlichen Parameter, diese Komplikationen vorauszusagen und Risiko-Patientinnen enger zu überwachen, insbesondere bei klinisch inaktiven Patientinnen. Die Studie zeigt, dass die Komplementfaktoren Bp (Fragment des Komplementfaktors B und eine damit eine Aktivierung des alternativen Komplementweges anzeigend) und lösliches C5b-9 (terminaler Komplementkomplex und damit eine allgemeine Komplementaktivierung anzeigend) gut geeignet sind, Risiko-Patientinnen zu erkennen. Dabei ist insbesondere wichtig, dass Bp und C5b-9 bereits früh in der Schwangerschaft erhöht waren und die Komplikationen auch unabhängig von einem Krankheitsschub voraussagen konnten. Optimalerweise sollten die guten Daten dieser Studie noch in einer unabhängigen Kohorte validiert werden, wobei Studien mit SLE-Schwangerschaften und Biomarkern logistisch und aufgrund der Seltenheit schwierig durchzuführen sind.
---
Zusammenfassung und Kommentar von:
Prof. Dr. med. Oliver Distler
UniversitätsSpital Zürich
> zurück zur Übersicht