ACR 2015 | Daily Highlights
The Scleroderma Lung Study II (SLS II) Shows That Both Oral Cyclophosphamide (CYC) and Mycophenolate Mofitil (MMF) Are Efficacious in Treating Progressive Interstitial Lung Disease (ILD) in Patients with Systemic Sclerosis (SSc)
Abstract:
1075
Presenter:
Philip J. Clements
Co-Authors:
Donald Tashkin, Michael Roth, Dinesh Khanna, Daniel E. Furst, Chi-hong Tseng, Elizabeth R. Volkmann and Robert Elashoff
Background/Purpose:
Demonstrate that the course of forced vital capacity (FVC) over 2-years was better in SSc patients with symptomatic ILD treated with oral MMF for two years than with oral CYC for one year followed by placebo during the second year in a blinded randomized controlled trial.
Methods:
Entry criteria: 1980 ACR criteria for SSc; disease duration of =< 7 years from 1st non-Raynaud sign or symptom; moderate dyspnea (Level 2 of the Magnitude of Task scale of the Mahler Baseline Dyspnea Index [BDI]; %FVC between 45% and 80%; and any ground-glass opacification on chest high-resolution computed tomography (HRCT). At baseline and every 3 months during the 2-year trial, physical exams (including modified Rodnan skin scoring or MRSS), lung function testing and patient-reported outcomes were completed: Scleroderma Health Assessment Questionnaire (disability index [HAQ-DI] and 5 100-mm visual analogue scales); SF-36, and transition dyspnea index (TDI). Patients were randomized to Arm A (oral CYC 2 mg/kg/day for one year followed by matching placebo for the second year) or Arm B (matching MMF up to 1500 mg BID for 2 years).
Results:
142 patients were randomized; 106 completed the 2-year evaluation. With the exception of MRSS, which was higher in the MMF group (15.3 in MMF vs 14.1 in CYC, p=xxx) the baseline characteristics were not different between treatment groups. In preliminary analyses, the course of FVC showed comparable improvement in both treatment groups at 24 months (see figure). Improvements in both treatment groups were noted in TDI (increase of 2.24 in CYC vs 1.86 in MMF, ) and in MRSS (decline of 6.1 units in CYC vs 2.9 units in MMF). More patients in the CYC arm withdrew from study treatment prematurely (36 in CYC and 20 in MMF) (p=0.019).Of all the subjects with end-point data 23% assigned to CYC received alternative therapy after stopping study treatment (MMF in 8, Rituximab in 1, tocilizimab in 1 and IV-CYC in 2) and 4% assigned to MMF received alternative treatment (po CYC in 1 and IV-CYC in 1) after stopping study treatment. Weight loss (NS) and leukopenia/thrombocytopenia (p<0.05) occurred more frequently in the CYC arm.
Conclusion:
In this large, double blind, RTC, we found: 1) At 24 months the improvement in %FVC was comparable in the two treatment groups. 2) The TDI and MRSS improved in both treatment arms but there was a trend favoring improvements in the CYC group. 3) Significantly fewer premature withdrawals were noted in the MMF arm. 4) Leukopenia/thrombocytopenia were noted significantly less frequently in the MMF arm5) It is unclear how the use of alternative medications in SSc patients who withdrew prematurely from study treatments, particularly in the CYC patients, could have influenced the results.
In summary both CYC and MMF are efficacious for treatment of SSc-ILD.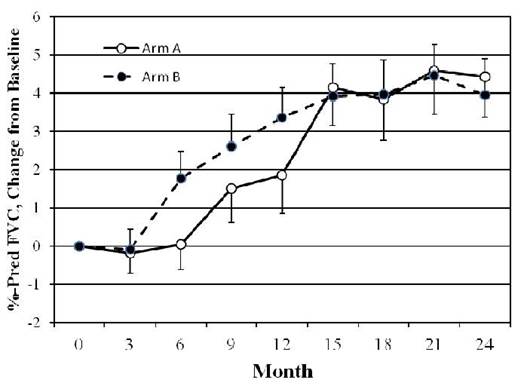 Comment:
Die Interpretation der Resultate dieser Studie für die klinische Praxis stellt eine Herausforderung dar. Cyclophosphamid konnte in der SLS I Studie zwar signifikante Effekte auf die Lungenfibrose bei SSc zeigen, die Unterschiede zu Placebo waren aber gering und von fragwürdiger klinischer Signifikanz. In der aktuellen SLS II Studie konnte nun gezeigt werden, dass Mycophenolat Mofetil (MMF) ähnliche Effekte auf die Lungenfibrose zeigt wie Cyclophosphamid. Man könnte nun schlussfolgern, dass somit beide Substanzen geringe und wahrscheinlich klinisch nicht signifikante Effekte haben, wobei MMF zumindest weniger Nebenwirkungen verursacht. Die Studie war zudem als sogenannte "Superiority" (=Überlegenheits-)Studie für MMF angelegt, was nicht gezeigt werden konnte. Allerdings sind die SLS1 und SLS2 Studie nicht so einfach zu vergleichen, da die klinischen Charakteristika der Patienten zu Studienbeginn unterschiedlich waren und sich auch das Studiendesign deutlich unterscheidet. Eine spontane deutliche Besserung der Lungenfunktion wie in der Studie für beide Gruppen gezeigt, ist zudem ungewöhnlich. Eine abschliessende Beurteilung wird erst mit der vollständigen Publikation der Studie möglich sein.
---
Zusammenfassung und Kommentar von:
Prof. Dr. med. Oliver Distler
UniversitätsSpital Zürich
> zurück zur Übersicht